Memorial Day, originally known as Decoration Day, is an American holiday to remember and honor the men and women who died while serving in the United States military. On the last Monday in the month of May we remember and celebrate the heroes who gave everything while serving in our country's armed forces. Many people also consider this weekend the first weekend of Summer, and what better way to remember and celebrate than gathering friends and family for a BBQ? Hosting a Memorial Day celebration may seem like a big project, especially if it's your first outdoor gathering of the season. There are many things to get ready for a celebration like this, but it doesn't have to be stressful and overwhelming. I am going to share some preparation tips with you to ensure your BBQ is a success!
Keep the Menu Simple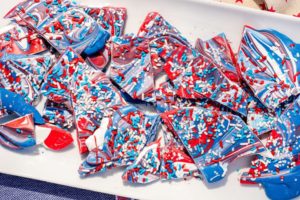 Don't stress over making a huge menu with fancy sides, extreme entrees, it's a BBQ, save those things for a dinner party. Stick to the typical BBQ main meal such as, hamburgers, hot dogs, and if you want something a little fancier you can even add brats as an option. Stick to just a few simple sides such as, corn on the cob, beans, coleslaw, watermelon and some chips with dip. Your guests will be ecstatic if Olathe "Sweet" Sweet corn is on the menu! You can also ask your guests to bring some side dishes as well, this will take a little pressure off you, and add some variety without having to over-spend. To really bring the memorial day feel, try making some "freedom bark" for dessert. Get the recipe from Delish.
Grilling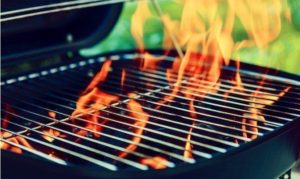 Before the day of your BBQ make sure your grill isn't in need of a in-depth cleaning. You don't want to get ready throw food on it and realize you and your guests will have to wait before you can eat because of a grill that's too dirty to cook on. Your grill should be preheated for about 15 to 25 minutes before cooking is to begin. When the grill is warm, use a wire brush to clean charred food from the grates, and cook away! Cooking shouldn't take long if you kept your menu simple with just hot dogs, and hamburgers. Check out these hacks for grilling burgers and hot dogs.
Fun For All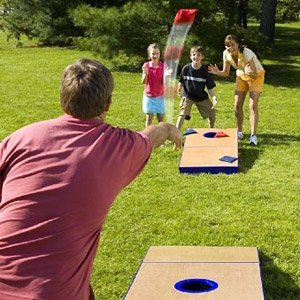 Have a variety of activities available for all ages. Chances are there will be a range of all ages at your BBQ, and having some fun group activities planned will keep your guests entertained. Arrange games that everyone can enjoy, such as corn hole, bocce ball or horseshoes. If you will have very young children at the party, have some paper, crayons and maybe even some bubbles on hand. These types of games require very little effort to set up and will make your BBQ fun and entertaining.
I hope these tips will make your Memorial Day celebration a memorable day full of family, friends, good food, and good times. Feel free to comment and share about your Memorial Day BBQ experiences or any other tips you have for planning a BBQ. If you're in the Montrose, Colorado area, and are in need of your own home to host BBQ's like this at, I'd be happy to help. Leave a comment or send me an email.